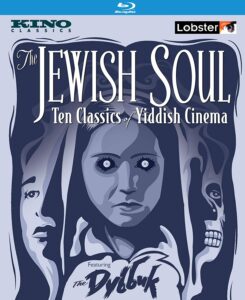 Three years ago at a film festival in Pordenone, Italy, Serge Bromberg of Lobster Films delighted me with the news he was restoring "The Dybbuk" (1937), arguably the greatest Yiddish film ever made. It's been a long wait but worth every minute; Serge has topped himself, presenting his beautiful 2K restoration of the film as the centerpiece of a box set, "The Jewish Soul: Ten Classics of Yiddish Cinema" (available on Blu-ray from Kino Classics). This outstanding 5-disc set is a most welcome time capsule from a lost world.
Based on a renowned play by S. Ansky, "The Dybbuk" tells the story of what happens when a man dies prematurely, how "his soul returns to earth to finish deeds left undone." The man in question is a yeshiva student who's intrigued with the Kabbalah, and is betrothed to a pious young woman. Filmed in striking expressionistic style by director Michal Waszynski and photographer Albert Wywerka, this compelling drama stars the husband-wife team of Leon Liebgold and Lili Liliana.
If "Tevya" (1939) sounds familiar, it should—it's based on the stories of Sholem Aleichem adapted and made famous as "Fiddler on the Roof." This terrific film was written and directed by Maurice Schwartz, who recreates the title role of the milkman he played in the Yiddish theatre. If you think you know your way around this one because of "Fiddler," guess again; it's a whole different ballgame without music and songs. While the box set (which includes optional English subtitles, audio commentaries and a booklet) is well worth the price for "Dybbuk" and "Tevya" alone, there's far more…
"Mir Kumen On" ("Children Must Laugh," 1935) is a fascinating documentary, made with non-actors to solicit funding for a Polish sanitarium. It was branded Communist propaganda, censored and banned; the Nazis sent the staff and children to Treblinka. Leo Fuchs and Moyshe Osher, both headliners in the Yiddish theatre, star respectively in the entertaining comedy "American Matchmaker" (1940), and "Overture to Glory" (1940), a drama of Jewish-Gentile relations. The former is one of several Yiddish films directed by cinematic chameleon Edgar G. Ulmer (better known for the likes of "The Black Cat" and "Detour").
The other five films in the set are more "programmers" than they are classics, as Bromberg readily admits. Produced by Joseph Seiden, a prolific shlockmeister trying to make a fast buck, they nonetheless give us a full picture of the genre. "The Yiddish King Lear," the most intriguing title, may be amateurish drek, but it's a curio of historical importance—its popularity helped launch the Golden Age of Yiddish Cinema.
If you've never heard Janet Klein & Her Parlor Boys, you're in for a treat. Her new CD, "Yiddisha Follies!," is comprised of 16 Yiddish-flavored novelty tunes. And flavorful they are—stuff like "Yiddish Hula Boy," "Everyone Says I Love You" (sung by The Marx Brothers in "Horsefeathers"), "Second Hand Rose" (made popular by Fanny Brice) and "Cohen Owens Me $97" by Irving Berlin. There are new tunes by the late Ian Whitcomb and Vincent Johnson and a pair of traditional dance horas arranged by Geoff Nudell.
My pal Yale Strom's "Shimmering Lights" is an unusual Chanukah CD that offers a sense of how the holiday is celebrated by different cultures on the planet. The pendulum swings from classical to jazz and blues, klezmer to bluegrass, Middle Eastern melody to Texas swing. It's a rich stew of musical fusion that typifies Yale's eclectic approach to Jewish music. Even the instrumentation is a little different from the norm; this may well be the only album of its kind that incorporates an oud—the Arabic equivalent of the lute.