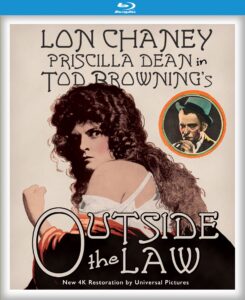 "Outside the Law" (1921) may not one of the better known collaborations between Lon Chaney Sr. and director Tod Browning, but thanks to Kino Lorber—which has one of the more robust catalogs of vintage films today—it looks better than ever on their new Blu-ray and DVD releases. The second of 10 films the actor made with Browning ("London After Midnight") is a melodrama co-written by the director with Chaney cast in a dual role, as the gangster Black Mike and the Chinese shopkeeper Ah Wing.
"Blackie" is a vile character who frames a former underworld mastermind for murder and plots a jewel robbery to frame his hard-boiled jewel thief daughter Molly (Priscilla Dean) for a robbery she didn't commit, to settle a personal grudge. Set in "Frisco's Chinatown," it's beautifully lit and photographed by William Fildew; the 4K restoration is so sharp and clean it looks like it was filmed yesterday except for some deterioration in the last third.
If Ah Wing is a far cry from Richard Barthelmess's sensitive Yellow Man in D. W. Griffith's "Broken Blossoms," Chaney creates a character you don't want to take your eyes off. His efforts will go unappreciated by a large percentage of the audience in this politically correct era, of course, but that doesn't denigrate his acting skill and mastery of makeup.
Priscilla Dean, who gets top billing above the title, is the anti-hero of two additional films available from Kino on a single Blu-ray/DVD, "Drifting" and "White Tiger." Both 1923 melodramas are directed by Tod Browning and co-star Wallace Beery; the former features Anna May Wong, the latter Raymond Griffith, who lends the movie a comic touch. Both 4K restorations are well worth seeing.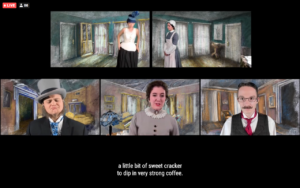 If you've been viewing theatre online, you know there's only so much you can do with Zoom. Or so it would seem. Irish Repertory Theatre's production of O'Neill's "A Touch of the Poet" and Long Beach-based Panndora Productions' staged reading of Niv Elbaz's "Delilah" have recently proven the medium is not as limited as it seems. Chapman University's current production of "In The Next Room, or the vibrator play" by Sarah Ruhl (available through Nov. 29) is further proof of what can be done by creative artists forced to strut their stuff on the Internet by the pandemic.
Director Jocelyn A. Brown and her cast were in mid-rehearsal for this edgy comedy about social issues, medical "experiments" and female sexuality at the beginning of the electrical age in the 1880s, when they were shutdown in March—not unlike Irish Rep's "Poet." Admittedly they were flummoxed at first, but Brown and scenic designer Kristin Campbell came up with an innovative production concept utilizing green screens and painted backdrops. "We tried some new things. Definitely forces one to think about how to tell a story differently when all your typical in-person on stage parameters are upended," says Brown.
Chapman's production is one of the more satisfactory virtual presentations I've seen this year. The standout in the engaging cast is Shayna Sternin as an unfulfilled wife, marginalized, patronized, and largely ignored by her doctor husband; Madison Meadows and Meir Parent excel among the supporting cast, as a wetnurse and an artist who employs her as a model. Kaitlyn Kaufman & Ruthe Brunner's period costumes and Wes Chew's lighting design contribute to the proceedings.