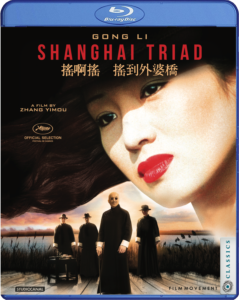 Oh goody, an alternate timeline, hip-hop fantasy riff on "Peter Pan." I think I'll pass on Dance with Films this year. Instead, I recommend a subscription to Film Movement Plus, a streaming service that virtually promises never a dull moment. The site is particularly strong in Asian and South American films.
Among its growing library of more than 450 festival faves, documentaries, and shorts, one that immediately caught my eye was Ash Mayfair's "Between Shadow and Soul." This 2019 Vietnamese drama is perhaps the first time in history a filmmaker has reconceived a contemporary color sound film as a black-and-white silent movie. As pretty as the original ("The Third Wife") was to look at, it's surpassed by the stunning B&W imagery and spectacular range of greys in "Shadow." Mayfair has deliberately made minimal use of titles, revealing much through facial expressions; that said, the filmmaker's intentions and characters' relationships seemed clearer the first time around.
Among other films I've enjoyed on FM+ are Wanuri Kahiu's "Rafiki" (2018), an offbeat love story using Nairobi's vibrant youth culture as a backdrop; Bill Forsyth's BAFTA Award-winning "Gregory's Girl" (1981), about an awkward Scottish teenager who falls for a female soccer player; and a number of delightful animated shorts, which are often difficult to find. Titles that entice me I haven't caught up with yet include "Shiraz" (1928), a silent Indian film based on the epic 17th century romance, and Oscar-nominated Russian director Andrei Konchalovsky's Holocaust drama, "Paradise" (2016).
The SVOD subscription service, available 24/7 across all devices and platforms, is currently offering film lovers a 30-day free trial and 50% off the first month to help eliminate pandemic boredom. I have no financial interest in FM+ but it has crossed my mind.
Zhang Yimou's "Shanghai Triad" (newly available on Blu-ray/DVD/Digital from Film Movement Classics) is a stylish 1995 drama set in the Chinese underworld of the 1930s. Shuisheng (Wang Xiaoxiao), a rural 14-year-old, is brought to Shanghai as a servant to gorgeous nightclub singer Bijou (Gong Li). She also happens to be the mistress of a mob boss; the boy's uncle warns him at the outset there are "hidden rules in everything you do and say."
As might be expected from Yimou ("Raise the Red Lantern"), the film is well acted, sumptuously designed and beautifully photographed (Lu Yue). Digitally restored for its Blu-ray debut, the release includes a booklet author by film critic John Berra. The Oscar- and Golden Globe-nominated picture is full of gangster clichés, as Grady Hendrix notes in a bonus video essay; on another level, he points out, it parallels Yimou's and Li's offscreen relationship. In any event, the film is consistently entertaining and thought-provoking from first moment to last.
If you've heard of William Beaudine at all, it's probably as the man at the helm of low-budget movies starring the Bowery Boys, or perhaps the cult picture, "Bela Lugosi Meets a Brooklyn Gorilla." He may be the most misrepresented filmmaker in film history, says James L. Neibaur, author of "Directed by William Beaudine: An Overview" (now available in paperback and ebook from BearManor Media). The snarky nickname "One-Shot" stems from the hipster movie buffs of the '70s, maintains Neibaur, and is undeserved by the hard-working fellow whose career stretched from the silent era to the television age.
Beginning his career with D.W. Griffith, Beaudine directed Lloyd Hamilton and many others in shorts before guiding Mary Pickford ("Sparrows" and "Little Annie Rooney") and W.C. Fields ("The Old-Fashioned Way") through some of their best pictures. Despite his work with popular British comedians Will Hay, Max Miller and George Formby during a stint in England, he had trouble getting assignments on his return to the U.S. Regardless of the B pictures that defined the latter decades of Beaudine's career, Neibaur treats him with dignity; he does a fine job of covering a director whose work has been generally ignored and derided until now.