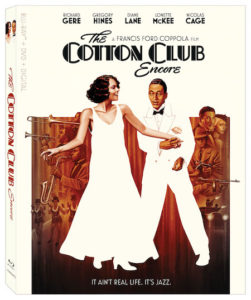 While Santa Ana's Frida Cinema is offering special pop-up drive-in showings around Orange County and other theaters are doing virtual screenings, Hollywood's independent arthouse staple, Arena Cinelounge, is the first bricks-and-mortar movie theater to reopen to the public in the L.A. area.
In full compliance with public health protocols, safety precautions include a new air purification system, masks, socially distanced seating and limiting the theater to 25% capacity. A 4K restoration of "The Unbearable Lightness of Being" (1988) starring Daniel Day-Lewis runs through Jun. 25.
If the '80s wasn't a great decade for American film, Francis Ford Coppola's 1984 valentine to Jazz Age Harlem, "The Cotton Club Encore" (now available from Lionsgate in a Blu-ray Combo Pack and other editions), has aged like a fine wine. The 35th Anniversary Edition is "the movie I meant you to see," the filmmaker says in a short intro to the film. At 139 minutes it's only about 12 minutes longer than the original version but the story makes more sense and some of the spectacular musical numbers have been extended.
The story (by William Kennedy & Coppola and Mario Puzo, with screenplay by Kennedy & Coppola) interweaves two romances, a musician-turned-movie star, a tap dance team, a pair of singers, a gaggle of gangsters and a bounty of long-legged chorus girls. Top-billed Richard Gere unfortunately doesn't do much for the film, and as a white cornet player in the iconic black nightclub is historically inaccurate as well.
His love interest, Diane Lane, fares somewhat better, but it's dance wizard Gregory Hines and singer Lonette McKee who give the picture much of its pizazz—along with a carefully chosen coterie of character actors, including Bob Hoskins (as the club owner), Fred Gwynne, Allen Garfield and Julian Beck. Tap legends Sandman Sims and Honi Coles are on board as well; Larry Marshall neatly captures Cab Calloway in a memorable scene.
There's a fair amount of violence in the film, as might be expected from the director of "The Godfather," but it's carefully toned down and somewhat more palatable. The Blu-ray edition looks stunning, though it's a bit skimpy on bonus features. Coppola credits producer Robert Evans with the concept for the film in a brief Q&A with a live audience.
A film like "Ága" comes along only once in a great while, and this 2017 Bulgarian drama (available on DVD from Big World Pictures) is worthy of the acclaim it has garnered at international film festivals. Director and co-writer Milko Lazarov's style may best be described as minimalist; the deceptively simple story (In Yakut with English subtitles) follows a reindeer herder and his wife's daily routine in snowy Siberia.
If watching Nanook (Mikhail Aprosimov) and Sedna (Feodosia Ivanova) make and eat fish soup sounds less than compelling, there's a poetic quality to the film that almost defies description. A succession of stunning images without a hint of CGI in sight, Kaloyan Bozhilov's masterful cinematography proves that sometimes a picture really is worth a thousand words.
James Franco's 2014 film of William Faulkner's "The Sound and the Fury" (available on DVD from Monarch Home Entertainment) paints a less than pretty picture of the Old South, in its depiction of the aristocratic Compson family and its "long fade into irrelevance." Matthew Rager's fragmented adaptation presents the acclaimed novel as a trio of character studies, with extensive use of flashbacks.
Franco gives a fine performance under his own direction as Benjy, a mentally disabled young man who's an embarrassment to the family— the film's most fully realized characterization. Tim Blake Nelson is impressive as Jason, the clan's cynical, abusive patriarch. The female members of the family, including the promiscuous Caddy (Ahna O'Reilly) and her daughter Miss Quentin (Joey King), are fully inhabited by the actors but get short shrift in the somewhat muddled adaptation.