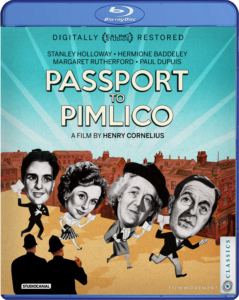 Ealing is more than a suburb on the edge of London. Before the BBC moved into its hallowed soundstages, it was a "defiantly small" film studio, as Peter Ustinov once recalled, that "glorified the small at the expense of the big, the conventional, the pompous."
The comedies, for which the company is best known, typify the gentle and comparatively subtle style of British humor prevalent before the Carry On series and Monty Python arrived with their broader, sillier approach. The films often took on a David vs. Goliath theme, with a small opponent triumphing over a larger and more powerful one.
Some of Ealing Studios' best, including "Passport to Pimlico" (1949) and "The Titfield Thunderbolt" (1953), have been digitally restored (now available on Blu-ray and Digital from Film Movement Classics). It's hard to think of a better prescription for cabin fever or pandemic blues.
"Pimlico" gets off to a rollicking start when shopkeeper Stanley Holloway falls into a hole in the ground made by a bomb left over from WWII, and discovers a cache of buried treasure. Eccentric professor Margaret Rutherford unleashes havoc when she establishes the area's forgotten provenance—it's actually part of Burgundy, France.
"Thunderbolt" is set in motion when British Railways announces the closure of a branch line and a spirited group of villagers decides to fight the corporate giant, led by the great grandson of the man who built their rural single-track railway, John Gregson, with the backing of wealthy businessman Holloway.
Both restorations are stunning, especially "Thunderbolt," the studio's first Technicolor film. Both pictures were written by T.E.B. Clarke ("The Lavender Hill Mob") and feature ensemble casts of familiar British character actors, including Naunton Wayne (who turns up in both), Hermoine Baddeley, Sid James, Hugh Griffith, and Irish actor Jack MacGowran. Locations featurettes and other bonus materials are included.
Starved for live theatre? Me too. Seems it's everywhere online these days. Here are just three:
"Twelfth Night," Shakespeare's whirlwind comedy of mistaken identity and unrequited love, available on demand until 7pm UK time on Thursday April 30, courtesy of National Theatre Home. Followed by "Frankenstein" with Benedict Cumberbatch and Jonny Lee Miller alternating roles as Victor Frankenstein and the creature. Streaming for free from 7pm UK time on Thursday April 30 until Friday May 8.
"The Riverboat," an interactive musical experience about the history of jazz in America, co-created and presented by Lincoln Center Education and Jazzy Ash & The Leaping Lizards in New York City.
L.A. Theatre Works productions, being aired weekly by radio stations across the U.S. and internationally. Currently streaming: The Graduate, with Kathleen Turner. Available starting May 2: Misalliance by George Bernard Shaw, starring Roger Rees; starting May 9: Six Degrees of Separation by John Guare, starring Alan Alda and Swoosie Kurtz.