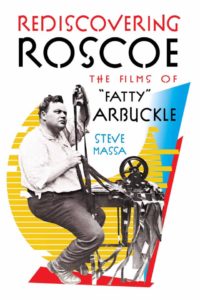 Extra time on your hands? Now's your chance to catch up on movies and books. Sunday afternoons in quarantine are a lot more fun now that I can look forward to my friends Ben Model and Steve Massa host the Silent Comedy Watch Party on YouTube (streamed live at 3pm EST). If you like rare silent short films of the slapstick variety—with live piano accompaniment, no less—this is the (free) ticket. For someone like me who's been hooked on this stuff since the age of six, it's nirvana.
One of the best books for silent movie aficionados in many a moon is Steve Massa's massive "Rediscovering Roscoe: The Films of 'Fatty' Arbuckle" (available in paperback and hardcover from BearManor Media). Yes, it's a whopping 681 pages but you don't have to read very far to realize it's likely to stand for all time as the definitive tome on the long neglected work of the much maligned comedian.
Arbuckle (1887-1933), who co-starred with Charles Chaplin and mentored Buster Keaton, unwittingly short-circuited his own high-flying career by throwing a party. The infamous scandal that ensued when an aspiring actress and party girl died a few days after the event—despite the comic's acquittal of any wrong-doing—cast a dark shadow over his career that has lasted nearly 100 years. "The time has come to focus on the films and give the man…his due," as Massa states, noting the pictures that survive "reveal not only an immensely likeable clown but an innovative comedy creator and sophisticated director."
From Arbuckle's first movie appearance in 1909 to his swansong in 1933, Massa (author of "Slapstick Divas") documents his work with credits, synopses, contemporary reviews, commentaries, and information on his collaborators. Of greatest interest perhaps are the lesser-known details on the comic's last four starring films from 1921, which were shelved in the wake of the scandal, and the pictures Arbuckle directed in the decade that followed. Not content to give us a staggeringly comprehensive study of the comedian's career, the author adds a 70-page appendix on other plus-sized screen comics for good measure.
Speaking of good books for movie lovers, my friend Mary Mallory urges us not to forget about Larry Edmunds Bookstore. The Last of the Mohicans among the great Hollywood bookshops has been hit hard by cancellations of festivals and screenings. Mary, an author and historian herself, recounts the shop's glorious past in this post.
And speaking of silent movies, "Little Old New York" (available on DVD from Undercrank Productions) has lost none of its charm since it was released in 1923. Thanks to a new 2K digital scan sourced from a 35mm print in the Library of Congress and a new theatre organ score by Ben Model (who produced the Region 0 disc in association with Edward Lorusso), this Marion Davies drama looks and sounds as good as it did nearly a century ago.
The Shakespearean plot concerns one Patricia O'Day (Davies), who journeys from Ireland to NYC in the early 19th century to claim a family fortune at the last minute—disguised as her brother Patrick. The ruse becomes considerably more difficult when Pat falls in love with her uncle's stepson Larry, who was next in line to receive the money. The scene where Davies dances an Irish jig is a highlight.
Steamboat inventor Robert Fulton, John Jacob Astor, Washington Irving and other historical figures are woven into the plot. Of more interest are such recognizable character actors as Charles Judels, Spencer Charters, Louis Wolheim, J. M. Kerrigan and Harry Watson Jr. among the large ensemble cast capably directed by Sidney Olcott. Watson is also on view in a bonus segment from one of his "Musty Suffer" films, sparring with comic partner George Bickel in their famed boxing routine.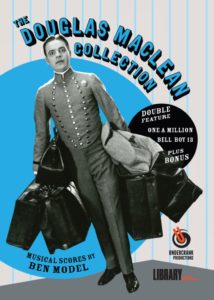 I'm a proud backer of Model's recent Kickstarter release, "The Douglas MacLean Collection" (also on DVD from Undercrank). The disc is especially noteworthy because the work of MacLean, a clean-cut energetic comedian in the manner of Douglas Fairbanks Sr., has been mostly lost to the winds of time; two feature films are included, along with a bonus short offering a tour of Ince Studios.