South Coast Repertory can never be accused of staging plays primarily for white audiences. They do an exemplary job of offering works by and about ethnic minorities, of which they can justly be proud. In the case of plays focused on African Americans however shows do not always seem supported by the black community, as I witnessed with two August Wilson plays staged last year at Long Beach Playhouse and the Matrix Theatre in Los Angeles.
Then again, perhaps it's whites who need to see plays like Donja R. Love's "Fireflies" (the audience was 98% white at the performance I attended last week) more so than blacks, who may be all too familiar with their often painful content. To be sure, this is a drama fraught with emotion, a rollercoaster ride ranging from love to hate, from pain and fear to joy and hope.
Charles and Olivia, a preacher and his wife, enjoy a light-hearted moment as "Fireflies" opens, but it's a brave front; it soon becomes obvious they're desperately trying to keep death from the door. The clergyman—modeled on Dr. Martin Luther King Jr.—can't restrain himself from bringing it into the house, grieving for four young black girls killed the day before in the bombing of a Baptist church in Birmingham (a true event that took place in 1963).
Love's exceptionally well crafted play, attentively directed by Lou Bellamy, is as riveting as it is realistic. Though it seems contrived and preachy in its last two scenes, the artifice is in service of noble intent—enabling Olivia, who secretly writes Charles' speeches, to step out of the shadows and claim a piece of the limelight. Lester Purry and Christiana Clark bring the drama to life in extraordinary performances. Jeffrey Elias Teeter's projections of fireflies filling the night sky are worthy of note.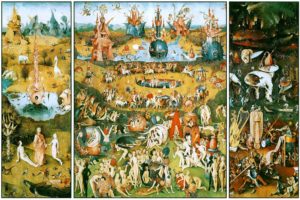 Unlike King, Hieronomous Bosch is a mystery about whom much more is thought or imagined than is actually known. His Early Netherlandish paintings are equally enigmatic, which makes José Luis López-Linares' documentary "Bosch: The Garden of Dreams" (available on DVD/Digital from Film Movement) all the more fascinating an exploration of the artist's most famous painting.
"The Garden of Earthly Delights" is studied and interpreted in exhaustive detail here by international artists, writers, educators and musicians, including such notables as novelist Salman Rushdie and singer Renee Fleming. Through the courtesy of the Prado Museum in Madrid—where it is permanently exhibited and the painter is known as El Bosko—we see the art work X-rayed, learn much about its creation and witness its restoration.
We hear about the prince who commissioned it and what purpose it served, and what happened to the work after the artist died. Not to mention its religious connotations, its futuristic elements and fantastical creatures (is the owl a metaphor for the devil?), and how Salvador Dali and others were inspired by it. "You could write a novel about this painting very easily," states Rushdie. "A novel with a thousand stories." No question after viewing this absorbing doc film.