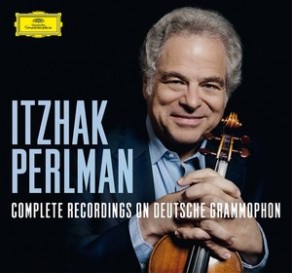 "The Ed Sullivan Show" was "a really big show" in its day, as its host often boasted, a television program that could propel little known talents to the forefront. Talents such as Borscht Belt ventriloquist Rickie Layne and his Yiddish-accented dummy Velvel, and a 13-year-old Israeli violin virtuoso named Itzhak Perlman.
Like a wandering minstrel Perlman happily returns to the Segerstrom Center for the Arts Jan. 19, thanks to the Philharmonic Society of Orange County. He's no longer a teenaged prodigy of course but a seasoned warhorse who turns up on everything from "Live From Lincoln Center" to "The Frugal Gourmet," and a much honored performer whose trophies include a Grammy Lifetime Achievement Award, a Presidential Medal of Freedom and a Kennedy Center Honor.
The artist, who will be accompanied at SCFTA Renée and Henry Segerstrom Concert Hall by pianist Rohan De Silva, is slated to perform Beethoven's Sonata for Violin and Piano in E-flat Major, No. 3, Op. 12; Grieg's Violin Sonata No. 2 in G Major, Op. 13; and Dvorák's Sonatina in G Major, Op. 100; with additional works announced from the stage. A pre-concert lecture by Brian Lauritzen is scheduled for 2 p.m. with the concert following at 3 p.m.
Perlman, who has 15 Grammy Awards to his name, can also be heard celebrating Beethoven's 250th birthday on wax. His recording of the composer's Violin Concerto with Carlo Maria Giulini and the Philharmonia Orchestra is included in Warner Classics' new 80-CD box set, "Beethoven: The Complete Works."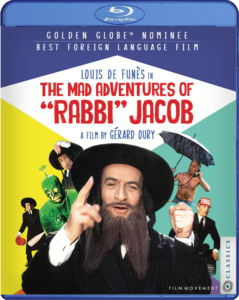 Name a slapstick comedian as big a superstar in his field as Perlman is in his, a man appreciated in France like nowhere else. No, not Jerry Lewis but a short, bald, rubber-faced little man whose films were crammed with zany visual jokes worthy of Lewis and such predecessors as the Three Stooges. A man whose wacky antics and facial expressions suggest British funster Rowan Atkinson. A man named Louis de Funès who died in 1983 at the age of 70 but is still reputedly the most popular French comedian today.
That de Funès was little known in America makes the new 4k restoration and video release of "The Mad Adventures of "Rabbi" Jacob" (available on Blu-ray/DVD/Digital from Film Movement) all the more reason to sit up and take notice. How well can a 1973 film with an obscure star and a nonsensical plot hold up today? Very well indeed, in the case of this Golden Globe nominee for Best Foreign Film, directed by Gérard Oury and co-written by Oury and Danièlle Tompson (who discusses the movie in a bonus interview).
In short order Victor Pivert (de Funès), a bigoted French businessman, causes his chauffer to drive his car into a lake, enters a factory and falls into a vat of neon green chewing gum, is taken hostage by a revolutionary, and is chased by a gang of assassins. What else to do by disguise himself as a Hasidic rabbi? What else in a film that repeatedly mocks bigotry and intolerance, including a blackface gag as edgy as it is outrageous, and somehow pulls it off?