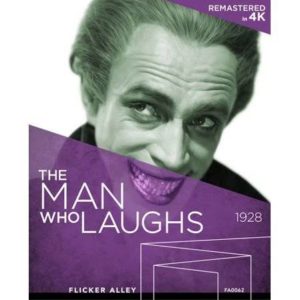 An invitation from a friend to join him for a multiplex showing of "Joker" last week met with little enthusiasm in these quarters. My contributions to the coffers of creatively bankrupt Hollywood these days are few; I've had enough of the superhero and comic book regurgitations, thank you. Not that I haven't enjoyed the performances of Heath Ledger, Jack Nicholson, Caesar Romero and Conrad Veidt, the guy who unwittingly started it all…at least on film.
Veidt plays Gwynplaine, the character credited as the inspiration for the infamous "Batman" villain, in Paul Leni's "The Man Who Laughs" (available in a deluxe Blu-ray/DVD dual format edition from Flicker Alley). The actor best known as Cesare the somnambulist in "The Cabinet of Dr. Caligari" and Major Strasser in "Casablanca"—roles that more or less bookended his career—gives a haunting performance in this 1928 silent classic as a fellow with a hideous grin carved into his face.
The film, which co-stars Mary Philbin ("The Phantom of the Opera"), has been dubbed by one critic one of "10 old movies too disturbing for mainstream audiences," along with the likes of Tod Browning's "Freaks." It's nothing less than a masterpiece in the style of German Expressionism and should be seen by anyone who appreciates horror films or silent movies at their best, and yes, "Batman." It deserves to be viewed in this superb 4K digital restoration, with a new score by the Berklee School of Music; bonus materials include the original 1928 Movietone score and a new booklet essay by historian Kevin Brownlow.
Paul Leni's follow-up film, "The Last Warning" (1929) is also available in a new 4K restoration (on Blu-ray/DVD from Flicker Alley). Sadly, it would be this largely forgotten director's last; he'd been tapped to direct "Dracula" but died as a result of an abscessed tooth. It stars Laura La Plante, John Boles and a gaggle of comedians, including Bert Roach, Mack Swain and Slim Summerville.
The plot of this comedy-thriller concerns an unsolved death that takes place during a live Broadway show. The film makes great use of the sets from "Phantom of the Opera" and is full of impressive visual touches such as a montage of "melting" newspaper headlines; regrettably it lacks the pizazz of Leni's and La Plante's previous collaboration, the "old dark house" classic "The Cat and the Canary."
Composer Arthur Barrow provides a new score, as well as an essay about it. Bonus materials include an essay by historian John Soister; both "Laughs" and "Warning" offer visual essays by Soister and slide show presentations of vintage marketing materials.
The 100th anniversary of Ernst Lubitsch's hilarious and vastly underrated "The Oyster Princess" (1919) was justly celebrated at a screening last week at the REDCAT in downtown Los Angeles. Peter Vermeersch and his big band jazz ensemble, Flat Earth Society, marked their own 20-year jubilee providing the accompaniment. Lubitsch's daughter Nicola, a surprise guest, introduced the film.
Vermeersch's avant-garde score worked surprisingly well with the romantic comedy, whose centerpiece is an outbreak of fox trot fever. There were moments of dead silence that broke the mood and thankfully brief snatches of spoken word, but they did little to mar Flat Earth's spirited soundtrack. Joris Ivens' experimental short "Rain," a city symphony, preceded the feature.
REDCAT, CalArt's multidisciplinary center for innovative visual, performing and media arts in the Walt Disney Concert Hall complex, will screen the work of contemporary filmmakers Lei Lei, Gabriel Abrantes, Alexandra Cuestra, David Lebrun and the late Chick Strand this month and next. REDCAT's "Studio: Fall 2019," a multimedia program of new works and works in progress, concludes tonight; CalArts presents their "Winter Dance: Repertory Right Now" Dec. 6-7.