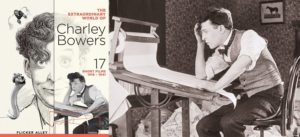 Wacky, whimsical, wonderful…and forgotten. That would be Charley Bowers. Haven't got a clue? Never mind, drop everything and avail yourself of Flicker Alley's two-disc Blu-ray collection of newly restored films by the animator-comedian while you have a chance. You won't regret it. "The Extraordinary World of Charley Bowers" is unlikely to find its way to your favorite streaming service any time soon, though some of his shorts could turn up on Turner Classic Movies.
Bowers somewhat resembles Buster Keaton but he was one of a kind. His best films cast him as a quirky inventor whose imagination knows no bounds, an alleged crackpot who proves himself and his invention—sometimes for naught—in the end. He concocts everything from a guillotine mousetrap to a machine to break in new shoes in these surreal shorts, most made between 1926 and 1928; rarely have stop-motion animation and live action been combined to better effect.
In "Egged On," his earliest comedy short and one of his best, he labors to perfect the unbreakable egg. In "Many a Slip," he devises an anti-slip banana peel. Bowers began as an animator; the earliest film in the collection, a 1917 Mutt & Jeff cartoon, is crammed with an endless number of insane gags, a promise of things to come. Even the final shorts from 1940, in which he does not appear, offer clever examples of stop-motion that prove he was still at the top of his game.
"Never heard of her" is sadly the overwhelming response of today's film folk when the preeminent female director of the silent era is mentioned—a woman whose career outlasted her contemporaries Méliès and Edison, a filmmaker who wrote, produced and/or directed a mind-boggling 1000 movies. "Be Natural: The Untold Story of Alice Guy-Blaché" (available from Kino Lorber on DVD and VOD on all major digital platforms) will hopefully change that.
Guy-Blaché (1873-1968) was after all not only incredibly prolific, she was a truly visionary pioneer. Her work dealt with such controversial subject matter such as child and spouse abuse, immigration, anti-Semitism, and female empowerment when motion pictures were in their infancy. She also made the equivalent of music videos with prerecorded sound as early as 1905.
Pamela B. Green's documentary, enthusiastically narrated by Jodie Foster, giving us a fascinating tour of Guy-Blaché's studio employing state of the art animation. Ample archival footage, some of which the production team discovered and restored, is included. Filmmakers and actors interviewed include a large number of familiar names and faces, but many are seen only in quick snippets; happily, there is extensive interview footage of Guy-Blaché herself.