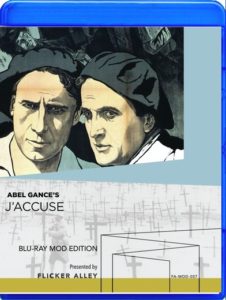 The long shadow of Abel Gance's monumental "Napoléon" hangs over everything else the pioneer French filmmaker ever touched, much as it did during his career. The hi-def restoration of his 1919 World War I epic, "J'Accuse" (available in a Blu-ray MOD edition from Flicker Alley), is a cause for celebration. This pacifist drama, an eye-popping technical achievement in its day with then-novel rapid-cut editing, was an international hit that established Gance on the scene.
The film is packed with striking images, including extraordinary shots of a crowd of villagers as they read a notice of mobilization, capturing the range of emotions that play across their faces. Another powerful shot shows two soldiers taking hands as they lay dying in adjacent hospital beds. If the film's newsreel-like battle skirmishes look like the real deal, they are. The director served briefly during the end of the war; discharged after a brush with death, he reenlisted in order to shoot these scenes with real soldiers under fire.
Gance seems to realize the film cannot be grasped it all in one viewing. For much of the 2:45 running time, he concentrates on the human drama, focusing his lens on a love triangle between Edith, an unhappily married young woman (Marise Dauvray), her much older husband, François (Séverin-Mars), and her lover Jean, a young poet (Romuald Joubé). Naturally, both Jean and François end up on the front lines.
"J'Accuse" ("I Accuse") suffers in comparison to "Napoléon," and arguably by the film Gance made between them as well, "La Roue," a melodrama (starring his friend Séverin-Mars) that is operatic in scope. But to dismiss the director's breakthrough work—nicely restored and newly scored by Robert Israel—on this basis would be to miss the point by the proverbial mile. It stands as remarkable an achievement today as it was 100 years ago.
"RKO Classic Adventures" (available on DVD from Kino Lorber) gathers three sound features from—you guessed it—RKO Radio Pictures, nicely restored by Lobster Films from prints in the Library of Congress. "The Painted Desert" (1931) stars a pre-Hopalong Cassidy William Boyd and a lot of pretty Arizona scenery but the best reason to watch this western is Clark Gable in his first featured role, after years in the extra ranks. "The Pay-Off" (1930) is an entertaining gangster film starring and directed by Lowell Sherman as the head of a gang of gentlemen burglars, the kind who plan and execute jewel robberies in tuxedos.
The real prize in this package is "The Silver Horde" (1930), a remarkably lively drama about the salmon fishing industry that departs sharply from the stagy, studio-bound norm of the day. Evelyn Brent gives an impressive performance as a businesswoman who plays by her own rules, opposite Joel McCrea as her love interest in one of his first starring roles. Louis Wolheim, Jean Arthur, Raymond Hatton and Blanche Sweet head a strong supporting cast; scenes filmed on location in Alaska add to the picture's realistic atmosphere.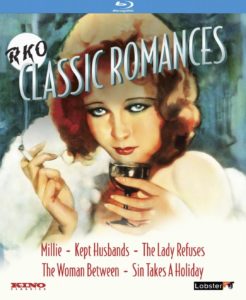 "RKO Classic Romance" (also on DVD from Kino Lorber) is a box set of five Pre-Code features restored by Lobster Films—all but one from 1931—that offer fine performances by women both renowned (Constance Bennett) and undeservedly obscure (notably Helen Twelvetrees and Betty Compson). "Millie," a must for all Pre-Code fans, stars Twelvetrees in the title role as a woman who lives life on her own terms; the actress triumphs over the script with solid support from Lilyan Tashman, Joan Blondell and Frank McHugh.
"Kept Husbands" is also thinly-scripted but highly entertaining, relying on the talents of Dorothy Mackaill as spoiled rich bitch who sets her sights on Joel McCrea, and Ned Sparks' trademark sour delivery. Compson is a revelation in "The Lady Refuses," as a desperate woman hired by a wealthy man to take his son away from a gold digger. "The Woman Between," about a lady torn between husband and stepson, is weakened by Lily Damita's performance. Bennett is a plain jane married to her boss in name only in "Sin Takes a Holiday" (1930), until a makeover by a pre-Sherlock Holmes Basil Rathbone turns her into an uninhibited beauty.