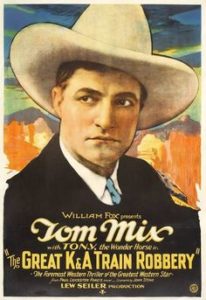 Film festival season is officially underway. Hot on the heels of the long-running film noir festival, Noir City (closing tonight), the tenth annual TCM Classic Film Festival virtually engulfs Hollywood April 11-14. Billy Crystal, Meg Ryan and director Rob Reiner will appear at the festival's red carpet opening night presentation of "When Harry Met Sally"; the TCM will also honor Crystal with a footprint ceremony at the TCL Chinese Theatre IMAX (aka Grauman's).
Silent film historian-preservationist Kevin Brownlow will receive the Robert Osborne Award prior to a screening of his WWII drama "It Happened Here." Among the special presentations is a double bill of silent Tom Mix westerns, with film accompanist Ben Model providing live theatre organ scores. Other silent classics to be shown include F.W. Murnau's "Sunrise" and "A Woman of Affairs" (1928), with John Gilbert and Greta Garbo, and a live orchestra performing a score composed and conducted by Carl Davis.
Lily Tomlin, Ronee Blakely, Keith Carradine, and Jeff Goldblum will appear with a screening of Robert Altman's "Nashville" (1975). Other special guests include Gena Rowlands ("A Woman Under the Influence"), Jacqueline Bisset (François Truffaut's "Day For Night"), Angie Dickinson ("Ocean's 11"), Kurt Russell ("Escape from New York"), composer Burt Bacharach ("Butch Cassidy and The Sundance Kid"), producer Norman Lear, Sara Karloff (daughter of Boris), and Jennifer Grant (daughter of Cary).
Pre-Codes, always a popular element of the TCM, will include the original "Waterloo Bridge" (1931), "Blood Money," "Merrily We Go to Hell," and the scantily costumed "Tarzan and His Mate" (1934). Film noirs include "Road House," "Open Secret," and the original 1946 version of "The Postman Always Rings Twice."
Among the many other films slated are a program of Republic serials, "Gentlemen Prefer Blondes" with Marilyn Monroe, Disney's 1959 animated "Sleeping Beauty," Woody Allen's "Broadway Danny Rose," and Spike Lee's "Do the Right Thing." Both passes and individual ticket are available.
"A Paris Education" (available on Blu-ray from Kino Lorber) is the kind of film that seems destined to be shown at the likes of the TCM festival one day. Jean Paul Civeyrac's arty drama, beautifully photographed in luminous black and white by Pierre-Hubert Martin, evokes Truffaut and other French New Wave filmmakers whose influence is everywhere.
Ostensibly about a young man who goes to Paris to study and make films, it has as much to say about life and love as it does about art. Etienne (Andranic Manet) manages to sleep with almost every woman in sight, when he's not discussing French, Italian and Russian cinema with friends and teachers.
In what is perhaps the film's defining moment, in the midst of an argument about activism and filmmaking, Etienne's roommate Annabelle (Sophie Verbeeck) asks his cocky pal Mathias (Corentin Fila) what he does to help the environment. He makes films, he says. "You think cinema save the planet?" she challenges. "It can't hurt," he counters. Annabelle tells Mathias he's out of touch with real life; he says artists do what they have to do—they create.
Bonus material includes a booklet essay by critic Kristen Yoonsoo Kim and three short films by Civeyrac. The best of them, "An Hour with Alice," plays like warm-up for "Paris Education," with two young people discussing movies and philosophy.