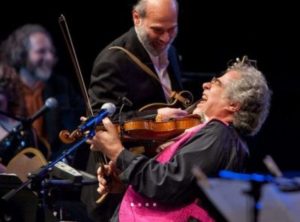 Klezmer, that uplifting genre of rhythm known variously as Jewish jazz, Jewish party music and Jewish soul music, is rarely heard live in Orange County. That alone is reason enough to mark "In the Fiddler's House" (Thursday night at Renée and Henry Segerstrom Concert Hall) as an occasion. If you're unfamiliar with klezmer, this musical journey from New York's Lower East Side to Eastern Europe is the perfect introduction; if you know and love it, this evening is not to be missed.
This reprise of the iconic klezmer album and Emmy Award-winning PBS special brings together an all-star ensemble: virtuoso violinist Itzhak Perlman, music director Hankus Netsky, clarinetist-mandolinist Andy Statman, violinist-vocalist Michael Alpert, vocalist Judy Bressler, trumpeter Frank London and vocalist Lorin Sklamberg of the Klezmatics, and members of the Brave Old World and Klezmer Conservatory Band.
The 8 pm event, presented by The Philharmonic Society of OC, is part of the Eclectic Orange Series at Segerstrom Center for the Arts in Costa Mesa; a pre-concert lecture by Brian Lauritzen will begin at 7 pm. The concert will also take place at Walt Disney Concert Hall on Sunday, Jan. 20, at 7:30 pm.
"Radio and the Jews" by David S. Siegel and Susan Siegel (available in paperback from Bear Manor Media) offers a remarkably comprehensive account of how radio influenced America's image of Jews from the 1920s to the 1950s. Renowned Jewish programs like "The Goldbergs" and "Abie's Irish Rose" share this well-researched volume with forgotten shows such as "Meyer the Buyer" and "Cohen, the Detective."
The authors discuss Jewish characters like Mr. Kitzel of "The Jack Benny Show" and Mrs. Nussbaum of "The Fred Allen Show" as well as such advocates of anti-Semitism as Henry Ford and Father Coughlin. An invaluable appendix noting the availability of shows discussed and a CD of selected program excerpts are included.