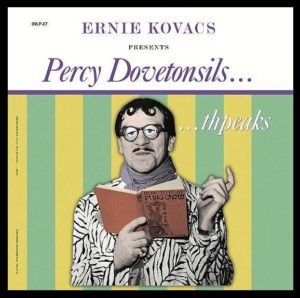 Johnny Carson, despite his legacy, was a Johnny Come Lately. Before Johnny, before David Letterman, before Jay Leno, there was Ernie Kovacs. The crazy, cigar-chomping Hungarian with the bushy eyebrows and the mustache, an obvious inspiration for all three, did everything long before they came on the scene. Steve Allen, the other trail-blazing pioneer who helped invent TV in the 1950s, has been widely celebrated, but his mustachioed counterpart not as much; the latter's premature demise in a fatal car accident in 1962 is largely to blame.
"Ernie Kovacs: The Centennial Edition" (now available on DVD from Shout! Factory) is an outstanding 9-disc set celebrating what would have been the comedian's 100th birthday next month. There's more than 22 mind-boggling hours of material packed into these discs—including a myriad of ridiculous characters wearing outlandish outfits, preposterous parodies, silly sketches, award-winning commercials and other rarities, including the only extant solo interview and the color version of his masterful "Eugene" silent show.
Some of this stuff will have you in stitches, some of it falls flat on its face—remember, in its era there was no precedent for 90% of it. Ernie shows how to make a toss salad, then tosses it at the crew; Mr. Science does goofy experiments, failing to notice his tie is on fire; Percy Dovetonsils, the effete poet, reads offbeat verse with a lisp while the crew giggles in the background. Simply put, the collection is a must-have. The only caveat: all the material has been previously released, and the booklets that accompanied the earlier releases are not included.
"Egon Schiele: Death And The Maiden" (available on DVD from Film Movement) arrived just in time to mark the 100th anniversary of the great Austrian painter's untimely death in October 1918 at age 28. The film is beautifully acted, lit, photographed and scored, with a distinctive atmosphere—a work of art befitting its subject. It's a little on the slow side but never seems to drag; the picture is almost poetic in its pacing. It does jump around in time a bit but isn't terribly confusing.
Egon (Noah Saavedre) has a predilection for young nude models, including his 16-year-old sister Gertie (Maresi Riegner). While the siblings have a platonic relationship, Egon gets involved with his other models, arousing jealousy in Gertie. He is all talent and libido, and totally irresponsible—his only responsibility is to his art. Dieter Berner's film is appropriately erotic at times, as one might hope. The only problem is that it concentrates more on the man than the artist; we see him painting at times but barely get a glimpse of his work.