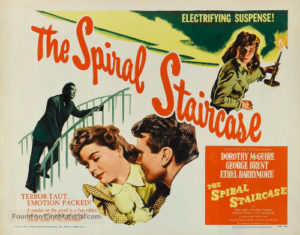 Never mind Black Friday, it's Noirvember. Two new 4K restorations of film noir titles have hit my desk recently, one classic and one forgotten gem.
Robert Siodmak ("Phantom Lady") may not be a familiar name to you but he was acclaimed The New Hitchcock early in his career. "The Spiral Staircase" (available on Blu-ray and DVD from Kino Lorber) was the director's masterpiece and justly so; you know you're in for a memorable experience right from the first moment. This 1945 release is a brilliant marriage of sound and image beginning with the opening shot, thanks in no small measure to the cinematography of Nicholas Musuraca ("Out of the Past").
Dorothy McGuire reminds us what a talent she was, acting much of her role as a mute woman in danger with only her face. Ethel Barrymore is mesmerizing as an invalid, playing most of the film with just her face and voice (a performance that earned her an Oscar nomination for supporting actress). George Brent is quietly effective but it's the women who really shine—including Elsa Lanchester, Sara Allgood, and Rhonda Fleming in smaller roles.
Though there's a murderer on the loose in this thriller—written by Mel Dinelli, based on a novel by Ethel Lina White—it's as much a gaslight melodrama as it is a noir. Bonus features include the "Screen Director's Playhouse" radio adaptation with McGuire, original trailers for this and other noir titles, and an audio commentary by film historian Imogen Sara Smith. Be forewarned: the latter is as compelling as the film; I couldn't shut it off.
"The Man Who Cheated Himself" (available in a Blu-ray/DVD dual format release from Flicker Alley) may be an unfamiliar title to you, as it was to me, but this 1950 noir is well worth your time. The director, Felix E. Feist, is as obscure as the film, but the cast is headed by Lee J. Cobb (fresh from his Broadway success in "Death of a Salesman") and Jane Wyatt ("Father Knows Best"). Cobb is sly and subtle as a cop-gone-wrong while Wyatt is melodramatic as his love interest, with both cast against type.
This meticulously plotted film, written by Seton I. Miller and Philip MacDonald (from a story by Miller), is considered a James M. Cain ("The Postman Always Rings Twice") knockoff; while we can guess what's going to happen to some extent, getting there is half the fun. And there's a terrific twist ending that's unpredictable. Cinematographer Russell Harlan ("Gun Crazy") makes superb use of San Francisco locales, including a chase across rooftops.
Jon Dall and Lisa Howard offer effective supporting performances as a rookie cop (Cobb's kid brother) and his wife, with nice work by character actors Charles Arnt and Marjorie Bennett. Special features include a mini making-of doc, a then-and-now look at the film's SF locations (notably Fort Point, eight years before "Vertigo"), a souvenir booklet, and the original trailer.
Speaking of noir, BearManor Media has published a number of relevant new and recent books, including "The 'Lost' Sam Spade Scripts," edited by Martin Grams Jr., "The Thin Man: Murder Over Cocktails" by Charles Tranberg, "The Making of The Hitch-Hiker" by Mary Ann Anderson, and "Duryea: The Movies" by Joseph Fusco.