Do we need superheroes today? Of course. Not the drek Hollywood is spewing out by the bushel but guys like silent film accompanist Ben Model—and the 153 people who funded his latest project on Kickstarter. "The Marcel Perez Collection, Volume 2" (available on Amazon later this month) presents eight more rarities starring the largely forgotten silent film comic whose rediscovery Model spearheaded with the first award-winning DVD in the series for his Undercrank Productions.
The rubber-faced buffoon, who began his career in Europe and was known under a variety of aliases, is seen here in one of his earliest surviving comedies from 1907; the remainder of these short films (all newly scored by Model) were made 1916-1921 during Perez's American career. Some of these 2K scans look terrific, others not so much; many have scenes missing. But what Model has rescued from the scrapheap of history offers substantial evidence this was one very funny man. Perez's leading ladies, Nilde Baracchi and Dorothy Earle, are also seen to good effect in these shorts, as is character actress Louise Carver.
"Max Linder: Father of Film Comedy" by Snorre Smári Mathiesen (available in paperback and hardcover from BearManor Media) is apparently the first English language biography of the pioneering French comedian. It attempts an overview of his life and career, rather than a definitive bio of the funster who was arguably the first superstar—most of whose hundreds of films, like Perez's, are lost. Mathiesen succeeds admirably in his intent, an effort hindered by mounds of misinformation available heretofore, much of it perpetuated by Linder himself.
The author, a Norweigan cartoonist, gives us a sense of Linder on screen and places him in the context of his times to give us the broader picture. Mathiesen was assisted by the comedian's daughter, Maud Linder, as well as a competing biographer whose book has yet to materialize. The book includes dozens of photographs, a scrupulous filmography, bibliography and footnotes but lacks an index.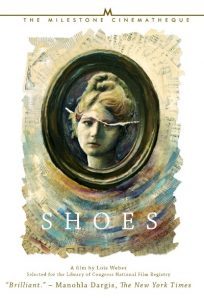 There aren't many films I've waited 40 years to see. Silent film actress Mary MacLaren whet my desire to see Lois Weber's "Shoes" (1916), the film that made her a star, when I interviewed her in the '70s; I never expected to see it at all, until word surfaced of a new restoration by the EYE Filmmuseum in Amsterdam (now available on DVD and Blu-ray from Milestone Films).
The tale of a teenage shop girl whose meager paycheck supports her parents and siblings, and the pickup artist who takes advantage of her, the film is a ground-breaking social drama radically different from D.W. Griffith's epic "Intolerance," made the same year. MacLaren's performance is remarkably understated compared to the broad style of the era; Donald Sosin provides an appropriate score. Bonus features include a commentary track by Weber biographer Shelley Stamp, and an interview with MacLaren by Richard Koszarski.
The Silent Treatment is now programming films at The Autry Museum in Griffith Park and the Arena Cinelounge in Hollywood, since the closure of the venerable Silent Movie Theatre in L.A. last year. They'll present the latest Universal restoration of Lois Weber's "Sensation Seekers" (1927) on DCP, March 10 (2 p.m.), at Arena Cinelounge; and a 35mm presentation of Victor Sjöström's "The Wind" (1928) with Lillian Gish at her best, at The Autry on April 21.
Also on March 10 (7 p.m.) at Christ Lutheran Church in Burbank, Famous Players Orchestra presents Clarence Brown's "The Goose Woman" (1925), plus "City of Stars" (1924), a behind the scenes promo film for Universal Pictures. Both films will have orchestra scores performed live.
My favorite silent film, widely considered the greatest silent ever made, premiered 90 years ago today–February 18, 1928–at the majestic Capitol Theatre in Manhattan. My book, "King Vidor's The Crowd: The Making of a Silent Classic," which tracks the film from rough idea to finished product features and includes a foreword by Kevin Brownlow, is available in ebook and paperback formats.
Author:
Jordan R. Young
Jordan R. Young is a journalist, show business historian, playwright and theatre critic. His work has appeared in The Los Angeles Times, The New York Times, The Washington Post, The Christian Science Monitor, Los Angeles Magazine, Westways, AAA Tour Books, and The People's Almanac.