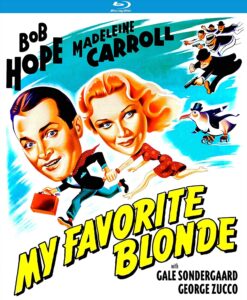 From vaudeville and radio to movies, television, and far flung outposts across the globe, Bob Hope had one of the longest and most successful careers in show biz. His reputation has faded in the generation since his death at the age of 100 in 2003—even his namesake airport has been relabeled—but he hasn't been entirely forgotten.
Beyond the films that occasionally show up on Turner Classic Movies, Kino Lorber has been putting some of his best work out on Blu-ray. In addition to recently reissuing some of the pictures in the "Road" series he made with his bosom buddy Bing Crosby, Kino is currently releasing some of his solo efforts in crisp new 2K masters. Unlike his friends Jack Benny and George Burns, Bob lost his timing in his later years—but these are vintage Hope, "Rapid Robert" at his best.
"My Favorite Blonde" (1942), the first and arguably best of his "Favorite" trio, has not been an easy film to see in recent decades so it's especially welcome. This fast and funny comedy-thriller also had the distinction of launching Norman Panama's & Melvin Frank's film careers; the duo, who were writing for Hope's radio show at the time they concocted the story for this picture, went on to a stellar career that included several additional films for the comedian.
Co-starring Madeleine Carroll ("The 39 Steps") and directed by Sidney Lanfield ("The Hound of the Baskervilles"), "Blonde" starts out like a stylish espionage drama with a murder aboard a ship, glimpsed through a heavy fog. Carroll is a British agent on the run when she meets up with Hope, who's clowning on stage with a penguin, and latches onto him as a cover to escape the baddies chasing her; before long she's kissing him to seal the deal. "I've given up kissing strange women." What made you give it up? "Strange women."
"Nothing But The Truth" (1941), which reteams Hope with "Cat and the Canary" co-star Paulette Goddard (best known for "Modern Times"), is another one that has been hard to find. Bob is a stockbroker in this one, who enters into a bet with his boss he can go 24 hours without telling a lie. If that sounds like a tried and true plot device (hello, Jim Carrey), welcome to creatively bankrupt Hollywood.
"Caught in the Draft" (1941) casts Hope as a gun-shy movie star who makes a serious effort to avoid the draft but—you guessed it—ends up being pressed into service. Will he win the heart of the colonel's daughter (Dorothy Lamour, his "Road" co-star)? I don't kiss and tell. Among the bonus material on this one is footage of Hope entertaining the troops, the fabled "Hollywood Victory Caravan" and two all-star "Command Performance" radio shows. All available from Kino Lorber on Blu-ray.
You may have seen "Chicago" on stage and/or screen, but this juggernaut has longer legs than you may realize. Before it was an award-winning musical, it was a movie called "Roxie Hart" (1942), filmed with Ginger Rogers in the title role. Before that it was a Broadway play by Maurine Watkins, making its debut in 1926.
But wait, there's more. "Chicago" was also made into a silent movie in 1927. It was considered a lost film until a print turned up in Cecil B. DeMille's archives. This comedic melodrama (now restored and available on Blu-ray from Flicker Alley) is a revelation, starring former Mack Sennett bathing beauty Phyllis Haver as Roxie, who relishes her reputation as Chicago's "most beautiful murderess" after she impulsively shoots and kills her sugar daddy (Eugene Pallette).
C.B. was afraid it would tarnish his reputation as a director of biblical epics, so it's credited to one Frank Urson. Haver is a pistol as the trigger-happy golddigger, a prototype of the blonde bombshell Jean Harlow would make famous in a few short years. The Blu-ray looks as sensational as its subject matter; the jazzy score by Mont Alto Motion Picture Orchestra is nothing less than superb.